JINTION AAA AA Battery Charger, Charge batteries and used as power supply
Main products include nickel metal hydride, nickel cadmium, lithium ion, lithium polymer rechargeable batteries, intercom batteries, and solar products.
---
---
---
Product Details
---
JINTION AAA AA Battery Charger for NiMh NiCD AA/AAA Rechargeable Battery Charger USB Charge Port Safety and Over Temperature Protection Output 5V 1A Temporary Power Supply Features
JINTION AA/AAA Battery charger designed with smart charging clip, Battery charger can charge 2 or 4 AA/AAA NiMh/NiCD rechargeable batteries at a time.
Battery charger charging current 250mA(max), charging time depends on battery capacity. Reference formula-battery capacity/250mA*1.2
LED light indicator shows charging status. 1)Red light flashed slowly, battery in charge. 2)Red light turns off, battery fully charged.
When 4 AA/AAA batteries fully charged, battery chargers can be used as emergency power supply. You can use it charge your cellphone or USB LED lights. Charger LED light turns on Green when power supply.
Battery chargers adopt advanced MCU control and -∆V features, non-rechargeable and defective battery detection, over-temperature and over-current protection, battery short-circuit protection.

Instructions
1. Load 2 or 4 AA/AAA battery on the charger tray with right direction of "+""-"
2. Toggle " IN-OUT" switches button to IN position
3. Connect charger tray with power source with USB cable in charge port
4. Battery start to charging
LED light status
When battery fully charged, red light turns off. Please cut off power and take battery out from charger.
Charging time
Charging time depends on battery capacity. You can calculate the charging time with this formula.
Time=mAh/250mA*1.2
For example, AA 1500mAh battery charging time:
1500mAh/250mA*1.2=7.2h
Multiple Use of Battery Charger
This battery charger designed with special Nickel Metal Hydride battery charging clip, which can charge 2 or 4 AA/AAA rechargeable batteries at a time. Charger tray has smart charging method and include functions of battery short circuit alarm, battery status judgment and over-temperature protection.
Besides that, when 4 AA or AAA battery was fully charged, Charger tray can be used as an emergency power supply.
When battery was fully charged, it can be used as an emergency power supply. Toggle the "IN-OUT" switch button to OUT position, then connect your power off devices with USB cable in DC discharge port. LED light turns on green when charger tray used as power supply.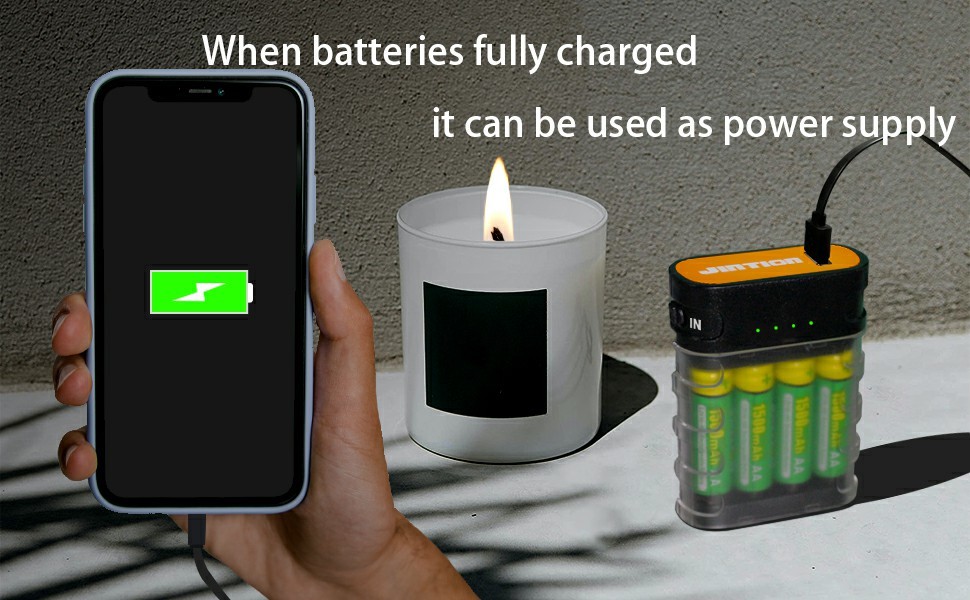 Safety instructions
1. Charger tray use indoor, do not watering in outdoor or get wet
2. Do not charge non-rechargeable battery, otherwise it will damage charger tray
3. Try to charge same brand battery and same capacity battery in order to make sure battery fully charged
4. When charger and battery stop to use, take out battery from charger and cut off power
5. Do not disassemble the charger tray by yourself
● We've worked with Samsung, Siemens and Motorola for more than 10years.
● Various battery sizes: AAAA, AAA, AA,A, SC, C, D, M and F.
● OEM 2-way radio batteries awailable.
● 4 factories with 30,000㎡ total area.
● Received Gold Prize at the 2013 International Invention Fair in Paris.
For more information, contact us today.
2013 Paris International Fair - Gold NiMH battery.
2014 Nuremberg International Invention Exhibition Silver Award A high-temperature nickel-metal hydride battery manufacturing method.
2014 Golden Award for the 8th China International Invention Exhibition A method for manufacturing high-temperature nickel-metal hydride batteries.
The 4th Iran Azad International Invention Expo gold medal for the production process of Ni-MH battery.
2014 Thailand International Invention Exhibition Gold Award New NiMH battery